Grandcamp is first mentioned as "Grandis Campus" in a charter dating from 1082. At that time, there already was a castle near Maisy, but nothing remains of the original structure. Grandcamp became a military center during the Middle Ages, guarding the coast against pirates and English invasions.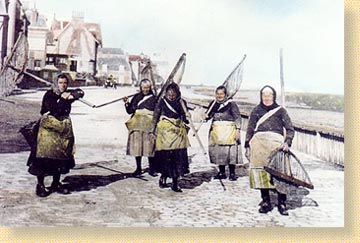 In the XVIIc., Vauban, prime minister of Louis XIV, built a fort on the coast just to the west of the village, the Fort Samson, with a garrison of over 500 men under a Captain General.
Grandcamp was destroyed by a fire in 1732, and badly damaged by violent storms accompanied by tidal waves at numerous times, particularly in 1800, 1834, 1836, 1843, 1860, 1869 and 1909.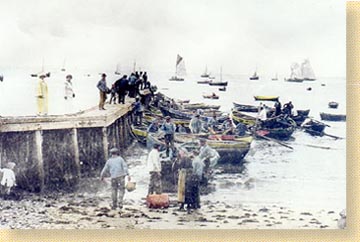 There were no schools until the XVIIIc., when the wife of the Captain General donated land and money to the parish to run a school for girls. The village priest soon after opened a school for boys, but both closed during the French Revolution. It is not until 1850 that public schools will be built, along with weaving and lacemaking workshops that will flourish for a few decades.

In the XIXc., Grandcamp became an important fishing center, with more than a hundred working boats and extensive oyster beds. Until the port was built in 1926, the boats used to dock on a wooden jetty near the center of town, and unload their catch on a wide boat ramp. At the same time, the Parisian high society started to come to Grandcamp for their summer vacations, and brought along artists (Seurat), writers (Zola, Alexandre Dumas), musicians and opera singers. Several fancy summer residences were built at that time, and these vacationers supported two large hotels with well-regarded restaurants, known far and wide for their "Matelote Grandcopaise", the local fish stew of chunks of flounder and other fish, simmered in cream and cider with potatoes, onions and parsley.
In June 1940, Grandcamp was occupied by the Germans. Four years later, on June 6 1944, the American forces landed a few miles on each side of the town, at Utah Beach and Omaha Beach, in full view of its inhabitants. But they had to wait two more days to welcome their liberators. For a few weeks after that, the small harbor was one of the busiest in continental Europe, receiving supplies for the invasion troops until the artificial harbor of Arromanches became operational.